Munising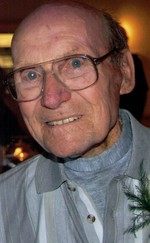 Edward Bashaw, age 83, of Munising died Saturday, September 27, 2008 at 10:00 a.m. at Marquette General Hospital. Ed was born in Iron River on December 1, 1924. He then lived in Marquette for many years until moving to Munising to work at the Munising News, where he worked until he enlisted in the United States Marine Corp 4th Division on March 12, 1943. Ed began his overseas duty on January 13, 1944 and served in the South and Central Pacific area until April 23, 1945. He was wounded in Saipan on June 1, 1944 and again at Iwo Jima on February 22, 1945. Ed was awarded numerous medals, including two Purple Heart awards. Ed was honorably discharged from the United States Marine Corp on October 26, 1945.
When Ed returned home from the service, he once again began working at the Munising News, where he continued to work until 1972. He went to work for the city of Munising and retired from there in 1986.
In the winter of 1945, Ed found himself in yet another fight of a different kind. This fight was of friendly fire and changed the course of his life. Ed met the love of his life in the midst of a snowball fight held at the corner of downtown Munising. Oddly enough, all of the four guys and the four gals involved eventually married.
Ed married Evelyn Huse on November 15, 1947 (love prevails even with the most avid of hunters) and have shared over 60 years of life together. Together they lovingly raised four children, all of whom feel they have been blessed by having two such fantastic parents. Ed and Evelyn taught love, kindness, and respect through their every-day living.
Ed was involved in many community projects and activities throughout his life. Some of his early involvements include the Knights of Columbus, founder of Munising hockey, coached as well as played hockey, and was a member of the Golden Gloves. In later years, he was instrumental in organizing the toy collection for the Toys for Tots Program, was very involved with the Marine Corp League, the American Legion and the American Legion Honor Guard. He was in charge of placing flags at the cemetery to recognize veterans on Memorial Day for many years.
Ed had many loves, the strongest being for his family and his fellow United States Marines. He also had many hobbies and interests: Ed was an avid Red Wings fan and enjoyed fishing, hunting, playing cards, and playing with his great-grandchildren. His family has sweet memories of his homemade malts (made special by him for whoever was under the weather – or maybe just pretending to be) and many members of the community remember him as the "candy man". Ed is known for his constant giving nature and his strength. Whether it be toward family, friends, acquaintances, or strangers, he was always ready and willing to give of himself. He taught his children many things, most important was that we all have a choice on how we live our lives – he chose to be joyous and giving. Ed held his head high through all of life's battles and never gave up the fighting spirit. Dad thanks for being you. You are our hero and we love you!
Ed is survived by his wife of over sixty years – Evelyn; son – Tom (Patty) Bashaw of Rhinelander, WI; daughters – Karen (Larry) Moore of Remus , MI, Kim (Jim) Monette, and Kay (Chuck Deaver) Bashaw both of Munising; six grandchildren - Tyler and Adam Bashaw, Ryan (LeAnne) Moore, Joe Monette, Stephanie (Ian) Stewart, and Cori (Chris) Deatsman; three great-grandchildren – Aiden Bashaw, Carlen and Carter Deatsman; sister – Agnes Robertson of Colorado; and many nieces, nephews, and special friends. He is preceded in death by several brothers and sister, mother-in-law Asta Huse, and grandson C.J. Wrona.
Visitation will be on Tuesday, September 30, 2008 from 5:00 until 8:00 p.m. at the Bowerman Funeral Home. Father Chris Gardiner will conduct Ed's Funeral Mass on Wednesday, October 1, 2008 at Sacred Heart Church at 11:00 a.m. Interment will be at Maple Grove Cemetery where the American Legion and Alger County Veterans Council will conduct military honors. In lieu of flowers memorials may be made in Ed's name to Toys for Tots or the Alger County American Legion Honor Guard.