Munising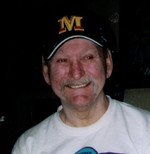 Salvatore "Sal" Dominick Gerry, age 67, of W. Munising Avenue, died following a brief illness on Wednesday, September 3, 2008 at the Tendercare Health Center in Munising. He was born on February 3, 1941 in New York City to the late Vincent and Catherine (Cupani) Gerry. Sal joined the U.S. Army and served from October 1960 until October 1962. He was a police officer in New York City and then moved into corrections. He was a Corrections Officer at Sing Sing and Attica before retiring from the New York Department of Corrections. In 1992, Sal moved to Munising. He was a longtime member of the Munising Moose Lodge. Sal loved to play pool, play euchre, and spending time with his numerous friends. Sal was a very gentle and humble man with a great sense of humor. He truly was a beautiful person.
Sal is survived by his wife –Morgan (Murphy) Gerry of Munising, children – Vincent and Denise, and brother - Joseph (Rita) Gerry of Houston, Texas. He was preceded in death by his parents.
Services for Sal will be conducted by Deacon James Anderson and the Alger County Veterans Council and American Legion Honor Guard at the Veterans Memorial at the City Dock in Munising on Tuesday, September 9, 2008 at 11:00 a.m. with a luncheon to follow at the Munising Moose Lodge.