Rumely
Ruth Joki, age 86, of Rumely, died unexpectedly on Tuesday, August 26, 2008 at 9:00 p.m. at the Marquette County Medical Care Facility in Ishpeming. She was born on October 15, 1921 in Ishpeming to Charles and Fannie (Pajunen) Kannisto. Ruth grew up in Rumely and left the area in her early 20's and moved to Detroit. She worked as a cook at Mount Carmel Hospital in Detroit and for the Jackson Public Schools. Ruth married Joel Joki and they raised three sons. She also worked at Van Camp's Surgical Garments as a seamstress in Jackson. After retirement, she moved back to Rumely. In 1989, Ruth moved to the Lake View Apartments in Negaunee and enjoyed the company of many friends there. She enjoyed playing golf and she was able to travel to Finland to meet some of her family there. Ruth loved spending time with her grandchildren.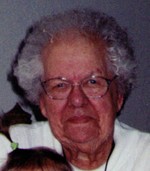 She is survived by her sons – Joel (Diane) Joki of Harrisville, MI and Jerome (Beth) Joki of Houghton Lake, MI; grandchildren – Denise (Rueben) Olivas of Fort Collins, CO, Deborah (Geoff) Bauer of Oxford, MI, Darlene (Bill Wellenkamp) Joki of Nisula, MI, and Matt (Becky) Joki of Linden, MI; great-grandchildren – Isabele, Audrey, Olivia, Josephine, Wyatt, Sydnee, Breann, and Sarah; sister – Betty Salo of Eben; brother - Robert Ollila; brother-in-law – Eino Keto of Negaunee; sister-in-law – Sylvia Kannisto of Farmington Hills, MI; numerous nieces and nephews and family in Turku, Finland. Ruth was preceded in death by her son James Dean Joki, grandson Joey Joki, sisters Helen Keto and Vera Kannisto, and brothers Art Kannisto and an infant brother.
Visitation will be held at the Bowerman Funeral Home in Munising on Thursday evening from 6:00 until 9:00 p.m. Rev. Dale Niskanen will conduct Ruth's funeral service in the funeral home's chapel on Friday, August 29, 2008 at 10:00 a.m. Interment will be at the Pine Grove Cemetery in Chatham.