Munising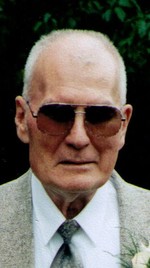 Arthur "Bud" Joseph LaFlamme, age 81, died on Monday, September 1, 2008 at the Tendercare Health Center in Munising after a courageous twenty year battle with Parkinson's disease. He was born on May 22, 1927 to the late Arthur J. and Alma A. (Syers) LaFlam in Munising, Michigan at his family's farm on top of St. Martin's Hill. Bud was a Wm. G. Mather graduate. He entered the United States Navy On May 19, 1945. Bud was aboard several vessels, but his main ship was the USS Saint Paul spending most of his time in the Pacific Ocean before being honorably discharged on March 23, 1948. When he returned home he worked at the Co-op where he delivered groceries and at the Munising Wooden Ware. On June 21, 1950 Bud married Frankie Jean Thayer. They lived all over Michigan and returned to raise their children on St. Martin's Hill. Bud was a saw mill supervisor; worked for Harthow for several years and worked at a mill on Mackinac Island. Bud was hired by the State of Michigan and was a major part of the construction and operations of the Camp Cusino Saw Mill. Before he retired he worked on restorations at Old Mill Creek, Fort Michilimackinac, and Fayette. Bud was a faithful member of the Munising Baptist Church where he served as a deacon and song leader. He also was an interim Pastor at Marquette Bible Church and a Pastor at the Lake Chemung Baptist Church. Bud enjoyed working on and talking about automobiles almost as much as he enjoyed his ice cream. One of his hobbies was buying and fixing up an old portable saw mill which he created LaFlamme and Sons Saw Mill. The thing that Bud loved the most was spending time with his best friend and wife Frankie until she preceded him in death on May 15, 2003.
He is survived by his five children – Jerry LaFlamme of Munising, Rick (Kathy) LaFlamme of Clarklake, MI, Sandy (Dan) Wilson of AuTrain, Teresa (Paul) Hutchins of Bondurant, IA, and Jason (Julie) LaFlamme of Wetmore; eighteen grandchildren - Tänja (Colton), Shonda, Jerrymiah, Zakerry, Danielle (Andy), Patrick (Brittany), David, Nicole (Chris), Jonathon, Eric, Frankie, Emily, Jennifer (Kelly), Stephanie, Kristyna, Jaylyn, Joslyn, and Jaron; nine great-grandchildren; sisters – Peg Sappington and Nancy (Cye) Prunick; and numerous nieces and nephews. Bud was preceded in death by his wife of fifty-three years Frankie Jean; parents – Arthur and Alma; son - Arthur Joseph III; sisters Eva Thayer and Jean Carberry; and granddaughter – Elyssa Lambert.
Bud's visitation will be on Thursday, September 4, 2008 from 5:00 until 8:00 p.m. at the Bowerman Funeral Home in Munising. His funeral will be conducted by his son Pastor Jason LaFlamme and his son-in-law Paul Hutchins at 11:00 a.m. on Friday, September 5, at the Munising Baptist Church in Wetmore. Interment will be at Maple Grove Cemetery where the American Legion and Alger County Veterans Council will conduct military honors. Bud will be escorted by his grandsons. In lieu of flowers, donations may be made in Bud's name to the Munising Baptist Church.