Munising
Mary Wirtanen, dedicated nurse, tireless volunteer, and beloved wife, mother and sister, went to be with her Lord on September 20. To her grieving family and friends, she left a legacy of compassionate service, day-to-day courage, boundless energy, and gentle perseverance, often in the face of obstacles and personal tragedies.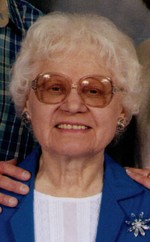 The first of eight surviving children, Mary was born on March 8, 1918, in Massillon, Ohio, to recent Czechoslovakian immigrants Michael and Meri Elavsky. Two years later, she accompanied her mother first to Prague and later to their home village in Slovakia, where Meri assisted in the settlement of a family estate. In 1923, mother and daughter returned to Munising, Michigan, where they were joined by Michael and by Matthew, Meri's father.
Despite the fact that she spoke no English when she first entered school, Mary—with the help of caring teachers—quickly became a top student. After graduating from Munising High School in 1936, she worked for four years as a telephone operator and legal secretary in order to pursue her longtime dream of a nursing degree. In 1941, she traveled to Chicago, where she enrolled in the highly regarded Augustana Hospital School of Nursing.
Immediately following graduation, Mary worked for six months as a surgical nurse in Chicago. Determined to challenge herself professionally—and see as much of the world as possible—she accepted a position as head nurse of a surgical department at Harper Hospital in Detroit. Her next move was to Jamestown General Hospital in New York, where she served as a surgical nurse. In 1947, she relocated to Cleveland, Ohio, where she once again worked as a surgical nurse.
In 1948, Mary returned to Munising in order to care for her ailing mother. During that year, she was employed as a surgical nurse at the Ishpeming Hospital. In 1949, she married Arthur E. Wirtanen, then general manager of the Co-op Food Store in Munising. She continued to pursue her nursing career at Munising Hospital until the birth of her first child, Linda, in 1951. Two years later, she gave birth to a son, David.
In 1955, the family moved to Superior, Wisconsin, where Mary worked part-time as a nurse and entered actively into civic and church affairs. She also served as surrogate mother to several of her younger siblings who became part of the household as they pursued degrees and launched their careers. In 1963, the Wirtanens relocated to Stambaugh, Michigan, where Arthur served as manager of the West Iron County Credit Union and Mary divided her time between nursing duties at Iron County General Hospital and volunteer activities at Trinity Lutheran Church. Following the tragic and untimely death of her husband in 1968, Mary worked full-time at the hospital, first as floor nurse and later as director of nursing. She then accepted a position as floor supervisor at the Medicare facility in Crystal Falls, Michigan.
Her retirement, which began in 1983, marked one of the busiest phases of her life. In addition to donating one day each week to the local St. Vincent de Paul store and serving as a poll worker for various elections, she filled numerous volunteer positions at Trinity Lutheran Church—teaching Sunday School, publishing the church newsletter, heading up congregational teams at major church conferences, organizing special activities such as World Prayer Day, and participating in women's circle activities. She also paid regular visits to invalids and convalescing friends and neighbors. In 1999, Mary relocated to Munising, Michigan, to help care for an ailing sister.
Mary Wirtanen is survived by her daughter Linda and son-in-law Thomas Fitzgerald of Ann Arbor, by her son David and daughter-in-law Nancy of Phoenix, by her siblings Pauline, Ruth, Victor, Edward, and Henry, by various in-laws, nieces and nephews, and by longtime friends. She was preceded in death by her brother Jerome and her sister Anne Elavsky Redfield.
Although Mary is no longer present in physical form, the memory of her brave and generous spirit will live on and continue to inspire all those who knew and loved her.
Visitation will be held at 10 a.m. Wednesday, September 24, at Eden Lutheran Church of Munising and will be followed at 11 a.m. by a funeral service, Pastor Lynn Hubbard presiding. Interment will be at Maple Grove Cemetery in Munising. Memorial donations in memory of Mary may be made to Eden Lutheran Church, P.O. box 360, Munising, MI 49862 or to Lutheran World Relief, PO Box 17061, Baltimore, MD 21298-9832.