JayEm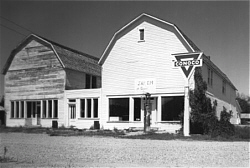 Just off highway 85, halfway between the towns of Lingle and Lusk, sits the near-ghost town of Jay Em. This early 20th century agricultural community was typical of those which sprang up in the pre-depression era as farmers flocked to homestead previously unsettled regions of the arid west. Jay Em was developed in response to the need for contact with the outside world by Lake Harris, who had moved to southeastern Wyoming in 1905 and filed a homestead claim in 1912.
When homesteaders began to flood into the area at the turn of the nineteenth century, Lake Harris, a man of vision, saw the need for several businesses to service the newcomers. As the demand for goods and services grew, so did the town. In addition to overseeing the town's creation and growth, he was at different times, a newspaper publisher, banker, postmaster, and land commissioner.
The town took its name from local cattle rancher James Moore whose ranch was situated two miles north of the town site. His brand "JM" was transformed from initials to words and the town was named. Mr. Moore had a colorful career as a Pony Express rider, a drover, and a freighter before settling down to ranch. He later sold his property to ranch tycoon, Van Tassell.
Jay Em was a service community composed of simple structures providing necessities and very little else. The streets were never paved or graveled, there were never sidewalks, curbs or gutters, there was no municipal organization or community center. But there was a bank, a repair shop and gas station, a water tower, a general store, lumber yard and post office, and a few residences. Here also was one of the largest gem stone cutting works in the State, where useful or ornamental articles from local agate, marble, jasper, and petrified wood were made. Jay Em's buildings were constructed with the materials at hand. They are vernacular and demonstrate a rare consistency of architectural design. This is a tightly knit commercial district with all buildings within a block of each other. Today, all that remains are boarded-up shop fronts and derelict farm buildings.
A number of the original buildings are still standing:
Hardware Store
Built in 1920 it was called "J.M. Hardware." People traveled as much as 100 miles to get ranch supplies here, always knowing they would be able to get what they needed. Mr. Harris even kept parts for one complete windmill; just to be sure he had what the customer needed. The hardware was more than a supply store though, it also had a soda fountain and gas pumps. Town meetings, socials, and even rifle practices were held in the hall above the store.
Grocery Store
Built in 1935, this building replaced the grocery store that was originally in Lake's home and then later in the mill building. People were allowed to charge their groceries and dry goods. The hall above this store was used for Sunday school, church club meetings, and as apartments.
Cream Station
Now located between the grocery and hardware store, this small, but mighty, cream station at one time shipped out more cream than any other station in Wyoming.
Gas Station / Garage
James Shoults was the first proprietor, from 1928–1945, calling it "Shoults Garage." From 1946–1960 it ran as "Wolfes Repair." A blacksmiths shop was located in the rear.
Jay Em Stone Shop
The first blacksmith shop was west of Harris's home. Bill Bradbury was village blacksmith. After it was flooded out it was then moved to this site around 1919 and later became a garage. In 1935 Lloyd Damrow and Oscar Bradbury opened a business called Jay Em Onyx & Gem Co. Through the years it was also known as the Wy. Marble & Stone Inc., and Jay Em Stone Shop. Here they made head stones, fireplace mantels, tabletops, paperweights, salt & pepper shakers, ash trays, candle stick holders, and jewelry.
Lumber Yard / Mill Building
The mill building was first called Jay Em Store and then General Store. In 1917 this building housed the grocery, hardware, drugstore, livestock feed, and lumberyard. Lumber and equipment came by train to Ft. Laramie or Lingle.
Bank / Post Office
Farmers State Bank of Jay Em opened for business in 1920. It was sold to the 1st National Bank of Torrington in 1945. In 1933, after President Roosevelt's inauguration, he issued a proclamation closing all banks and embargoing all gold, this to prove the governments power to cope with the financial crisis of the Depression. The Jay Em bank did not receive word of this so it stayed open. The bank was robbed in 1935.
The first Post Office for this area was established in 1899 in William (Uncle Jack) Hargraves cabin just north of town. The Postal inspector reprimanded Mr. Hargraves for being lax in his duties so Uncle Jack told him to take the post office back. In 1908 Silas Harris (Lake's father) sent a request to Washington D.C. to have a post office in the area again. Lake Harris carried mail by horseback three times a week for three months, free of charge, to show he was worthy of running a Post Office. On February 10, 1909, Mrs. C.H. Thornton was appointed postmistress. Lake was not old enough, but in 1914 he was appointed postmaster, and again in 1931 until he retired in 1959. The Post Office was located in a front corner of the Bank building.
In the early and mid 1900's Jay Em was a Jay Em began its decline in the late 1930s, with the improvement of transportation in southeast Wyoming. The spread of the automobile and improvement of roads enabled area residents to travel to larger commercial centers like Lusk, Lingle, and Torrington, and one by one, the businesses of Jam Em closed their doors. Only a hand full of residents lived in Jay Em for most of their lives, and perhaps 15 people still live there today. Mostly obscured by trees from the roadside, this once-vital economic community is now designated a National Historic District.
In part by Ryan J. Hill
Portions excerpted from Goshen County Chamber brochure.